Latest Technology
Our office uses modern, state-of-the-art technology to enhance patient comfort and to help you get the smile you deserve!
Dental Laser
The DeLight™ Erbium YAG dental laser is a pulsed light that provides pinpoint accuracy to gently remove decay without the need for anesthesia or the drill in most cases.
The ErYAG dental laser helps sterilize as it works and is less traumatic to the tooth than the drill. Bond strengths of white fillings to the tooth are also improved by 50% over conventional techniques.
---
DIAGNOdent
The DIAGNOdent is a new high tech laser system that aids in early diagnosis of cavities in the complex anatomy of the chewing surfaces of teeth. It utilizes laser light of a defined wavelength to help detect and quantify demineralized tooth substances without x-ray exposure.
---
OralCDx
OralCDx represents a breakthrough in oral cancer detection, a test that will allow you and your dentist to improve the prognosis of a disease that has remained unchanged for the last 50 years.
OralCDx is the first computerized brush biopsy system. It allows dentists to quickly, painlessly and reliably detect oral cancer in its earliest, most easily treatable stage.
Originally developed as part of the "Star Wars" missile defense program, the OralCDx computer system includes a neural network-based image processing system specifically adapted to detect abnormalities unique to oral brush biopsy samples.
---
Intraoral Camera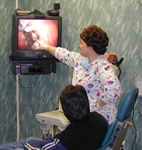 Our intraoral camera uses a tiny fiber-optic wand to easily take vivid photographs of the inside of your mouth. This allows us to let you see what we see.
---
Voice-activated Charting Software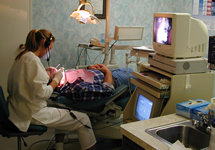 This system connects a computer database to a voice-activated headset so we can quickly, easily, and accurately record individual measurements when performing a periodontal exam.
---
Multimedia Education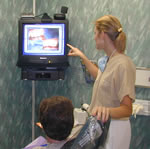 Our treatment areas and our waiting room are equipped with state-of-the-art patient-education DVD systems. If you are uncertain about a particular procedure, we will be happy to play the DVD video segment for you.
---
Veneers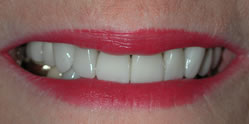 New technology in veneer fabrication allows us to perform dazzling transformations with minimal surface preparation.
---
White fillings

Although white fillings have been around for a long time, the new materials can now be used in a wider range of applications allowing you to keep your smile as white as it can be!